Snowboard Lessons
The SnowDome offers a huge array of snowboard lessons for all ages and abilities, with our fully qualified snowsports team and tonnes of fluffy snow, its the perfect learning environment.
Whether you are looking to take your first slide on snow or you're a seasoned pro, there is a huge array of lessons and sessions available. Beginner lessons come in varying options to suit your learning needs and improver lessons are available for snowboarders at the recreational standard looking to take their next steps. Private lessons offer the personal touch for all levels and kinder lessons offer a great learning path for youngsters between 4 and 7 years.
Beginner Snowboard Lessons
Beginners can get off to a flying start with a choice of learning routes. It takes the average person approximately 6 hours to learn basic snowboarding skills and feel confident on the snow before then progressing to the recreational standard.
Improver Snowboard Lessons
If you're at the recreational standard and looking to improve your skills, there's a selection of follow on day courses, coaching evenings and improver lessons available at the SnowDome catering for all levels of recreational snowboarders.
Private Snowboard Lessons
Private lessons with one of the SnowDomes highly qualified instructors gives you a complete one to one experience. The focus will be entirely upon you, your goals and your achievements. All lessons include equipment hire.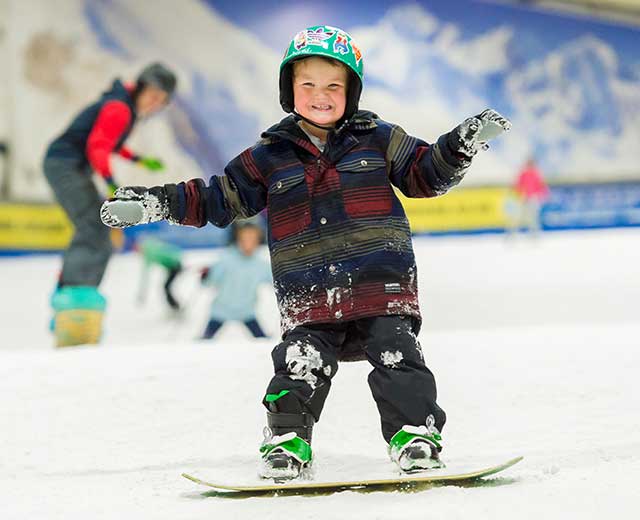 Kinder Snowboard Lessons
The SnowDome teaches children from 4 to 7 years in kinder lessons. With a dedicated team of instructors, all sessions and lessons last 45 minutes and take place weekend mornings and during the school holidays. All lessons include equipment hire.