Careers
The SnowDome couldn't do what it does without people like you.
The SnowDome is the ultimate snow, ice & leisure experience and the perfect venue for any family outing! The SnowDome team have been teaching people to ski and snowboard for over 25 years and pride themselves on giving guests the ultimate real snow experience. The venue is also one of the UK's most unique family days out with the children's snow fun park, tobogganing, snow tubing, ice skating, flume & inflatable fun swimming and climbing!
[Could include a video here.]
What makes a SnowDome person?
Things move fast at the SnowDome, whether you're busy fitting skis or gaining valuable leadership skills. You'll enjoy being busy and have a pro-active attitude. We are on the lookout for team members who ask themselves "What can we do next?" The SnowDome promotes flexibility, opportunity and development. Team SnowDome all share one thing… a desire to wow every single guest.
Welcoming the right people
The team are at the forefront of everything the SnowDome does, so it's important to make the right impression. There's certainly a type of person who can handle a busy environment with a smile on their face and a passion for doing more than expected. If you're an upbeat person with a proactive nature, you'll be a great fit for the SnowDome. If you're not sure, the handy pre-application quiz can help.
Why Work at SnowDome
Find out more about why the SnowDome is where you want to spend your career. Discover the values and mission that have meant over 25 years in snow business. Have your voice heard in a job that will make people go "wow".
Benefits
If you're a fantastic team member who gives your all, working at the SnowDome won't just mean an exciting career within a one of a kind venue, there's some amazing benefits and perks too.
Training & Development
The SnowDome is a unique venue with unimagined career opportunities. Great team members will be offered opportunities to progress and gain internationally recognised qualifications.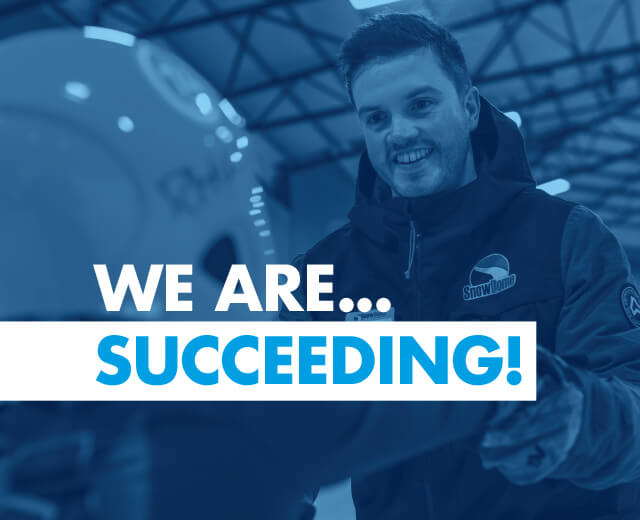 Success Stories
A great career means different things to different people. The SnowDome promotes progression, flexibility and creating a great work environment for the team. Hear from some of the team and their stories so far.
Current Opportunities
Find out what opportunities are currently available. There's a handy quiz before your application to see whether you'd be a great fit for the SnowDome.